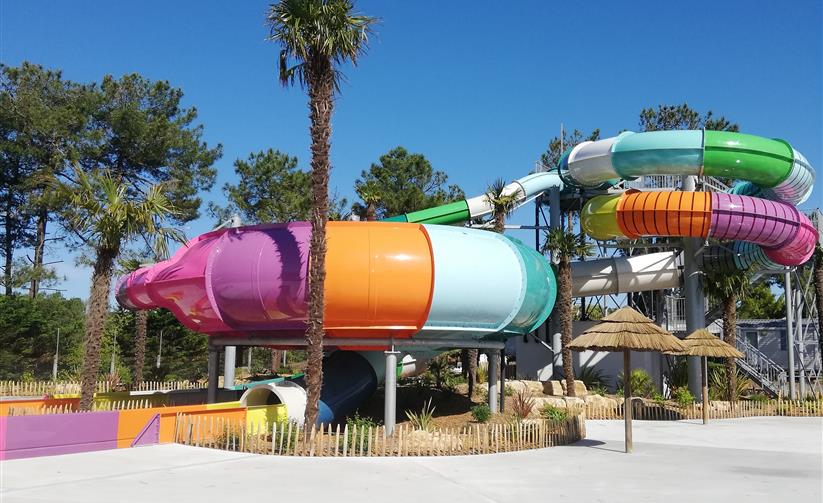 Saint Jean de Monts and its surroundings
The 8 kms of beach of Saint Jean de Monts give an exceptional character to this seaside resort located on the Côte de Lumière in Vendée. Indeed, it has the double distinction of being the longest beach and having the finest sand in the European Union.
Throughout the year, Saint Jean de Monts is a dynamic city which offers many activities (for example Kid's Folies events) intended to satisfy on the one hand its local population, and of course its seasonal population which proliferates to the summertime. The beach is the nerve center of the city where locals mingle with holidaymakers to walk, bathe, sunbathe, play beach games, practice sand yachting and other holiday leisure activities practiced in large numbers … Not to mention the passage required by the Estacade to admire the superb point of view offered by this projection into the sea.
During the day as in the evening, the city center and the seaside come alive on all sides with crowded cafes, restaurants and ice cream parlors, various colorful shops, musical programs and artistic exhibitions . Many infrastructures have been developed to make the most of Saint Jean de Monts: Casino, Aquatic center, Marine thermal baths, 18-hole golf course, Atlantic Hippodrome, Nautical base, Palais des Congrès, Explora Parc tree-climbing course, nightclub …
Saint Jean de Monts is teeming with innovative and creative ideas to meet all tastes, through the enhancement of its mixed environment (beach, forest, dunes, marshes) and the originality of the related activities.
For more information, you can visit the St Jean de Monts Tourist Office website by clicking on this link: >> OT St Jean de Monts
Cycle paths
Cycling is the best way to discover Saint Jean de Monts and its surroundings. The fully secure cycle paths start at the gates of the campsite and run for approximately 26 km , knowing that the Vendée has a total cycle network of 1000 km. Each year, the trails are improved and extended to provide ideal excursion conditions for everyone. Without further ado, get on your bikes to stroll at your own pace between Land and Sea in the middle of typical landscapes, and make restful stops in the heart of still preserved flora and fauna.
Activities to do in Saint Jean de Monts and its surroundings
Nature Activities : discovery of the Salt Marshes, canoe trip in the middle of the Marshes, rail bike …
Leisure parks : Océanile, Atlantic Toboggan, Youpla Land, Île aux Jeux…
Theme parks : Explora Parc, Butterfly Island, La Ferme des Pommettes, Biotopia…
Museums and cultural sites : Vendée Miniature Museum, the Windmill …
Nautical base of Saint Jean de Monts: this modern white and blue base, located feet in the water, puts all water sports in the spotlight, whatever your age and your level of practice: optimists, catamarans, paddle, kite surfing, canoes at sea, boards sailing, surfing, sand yachting… Emotions and thrills guaranteed!
Seasonal markets : colorful markets, scents and typical flavors await you several times a week in Saint Jean and its surrounding towns.
Saint Hilaire de Riez
Located between Saint Jean de Monts and Saint Gilles Croix de Vie, Saint Hilaire de Riez stretches over a length of 13 km on the Atlantic coast and has many localities such as Sion sur l'Océan, la Fradinière, etc. . The resort is a popular vacation spot because it benefits from a variable natural setting with dunes and maritime pine forest on the Ocean side, and sweet and salt marshes on the Land side . People come here to take full advantage of a generous nature jealously preserved, to be discovered on foot or by bike (note that the cycling network is constantly growing). Attached to its authentic heritage, Saint Hilaire de Riez is nonetheless turned towards the future with a rich cultural program and a festival called La Déferlante which radiates every summer throughout the region. Between seasonal markets, local products and activities closer to nature , holidays become a real art of living in Saint Hilaire de Riez.
Saint Gilles Croix de Vie
Crossed by the coastal river La Vie, Saint Gilles Croix de Vie is defined as a "Maritime City", fervent in love with the sea and grateful for the benefits that it provides to the seaside resort with in particular a highly frequented marina, a dynamic fishing port specializing in sardines, shipyards, canneries, lively port life, sandy beaches, expanses of dunes … Both a land of sailors and a city of character, Saint Gilles brings together boaters and summer visitors in search of authenticity since it has preserved a strong historical character with the church of Sainte Croix and that of Sainte Vie, the Joséphine tower (of Beauharnais), bourgeois residences belonging to families of traders and shipowners. Music lover like his neighbor Saint Hilaire, the music resonates in the streets of Saint Gilles every Pentecost on the occasion of the International Jazz Festival "Saint Jazz sur Vie".
The passage of Gois
The Passage du Gois is a submersible causeway that runs through at low tide for a distance of 4.2 km . He links the Continent to the island of Noirmoutier and thus constitutes the main tourist attraction of the island. Le Gois is a hotspot for shore fishing renowned in Vendée and elsewhere, both for its exceptional natural setting and for its prolific "deposits" of shellfish (oysters, clams, cockles, periwinkles, mussels, etc.). Particularly frequented during high summer tides, Gois is a "captivating" place that distracts the vigilance of fishermen on foot and carefree walkers trapped each year by the rising tide.
To know the safety rules of the passage du Gois, as well as the uses of shore fishing, click>> here .