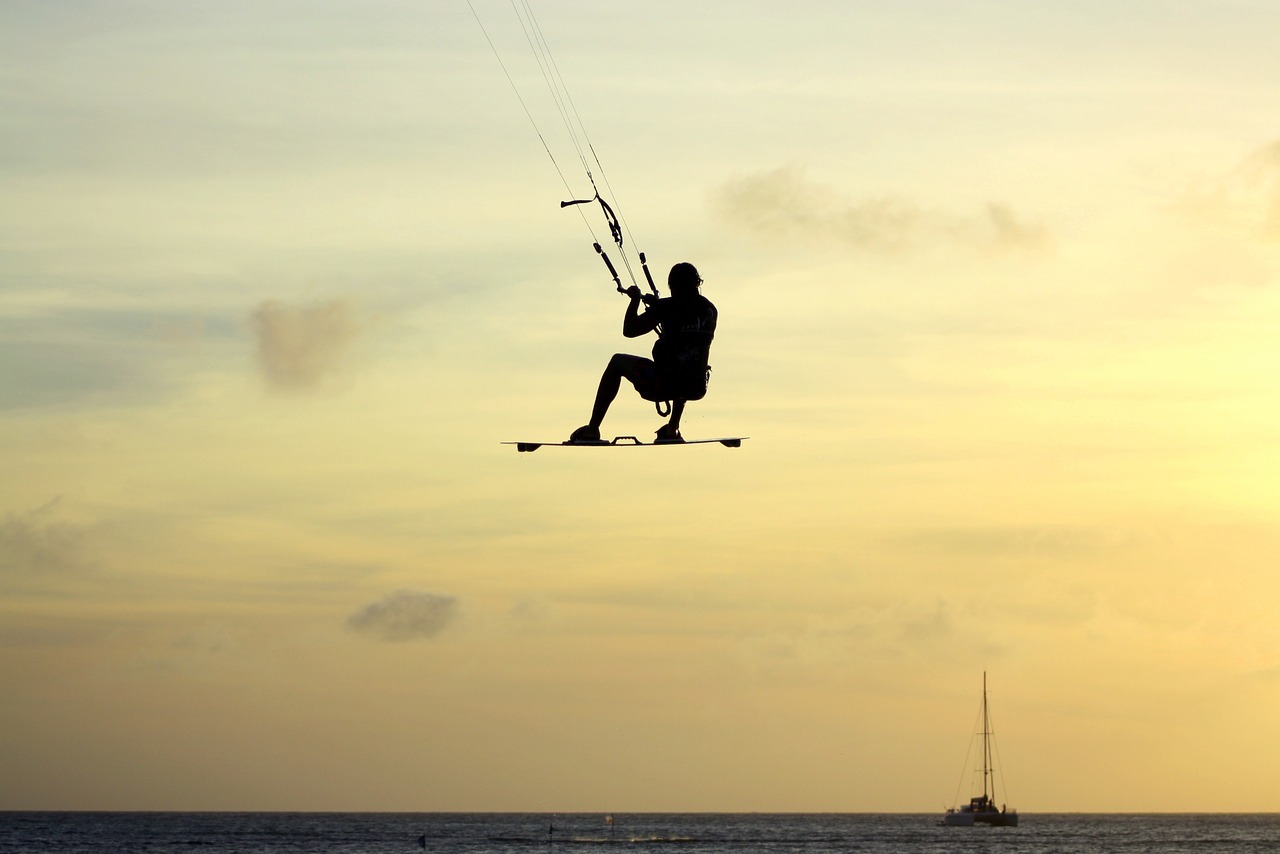 Kitesurfing in Vendée: where to practice around Le Tropicana campsite?
Whether you are a beginner or a seasoned pilot, discover the best places to kitesurf in Vendée, right next to the Tropicana!
During your holidays in Vendée and around Saint-Jean-de-Monts, this is the perfect time to discover new water activities , and take full inspiration from Vendée life!
Among all the sports and nautical activities in Vendée, have you thought about kitesurfing? The flagship sport of the Saint-Jean-de-Monts environment, Vendée kitesurfing is a must for all your holidays with family or friends at Le Tropicana campsite!
Kitesurfing in Vendée
Many factors make kitesurfing one of the essential activities to practice during your holidays in Vendée . First of all, when you stay at Le Tropicana campsite, you will enjoy a huge sandy beach just 800 meters from your mobile home or your tent.
And because lazing around allows you to rest but you also want to discover new sensations, nothing like book a kitesurfing session !
The long sandy beach near the campsite is an ideal spot for learn and practice kitesurfing . With good wind resistance and excellent exposure, you can pick up speed without any difficulty and above all fully understand how kitesurfing works .
In the event of a fall, no pain : the fine sand cushions everything, and you can get back in the saddle as quickly as possible!
Talmont Saint-Hilaire
If you want to take to the open sea a little and discover other Vendée landscapes than the beach which is near the Tropicana, you can go to Veillon spot in Talmont Saint-Hilaire . This place is absolutely ideal for speed lovers!
You can then enjoy, thanks to a impressive lagoon , conditions worthy of the best spots on the planet for kitesurfing .
One sandy space sufficiently wide to ensure ease of navigation, and which represents a privileged playground for kitesurfing.
At mid-tide, the water unwinds quietly between all the sandbanks, and forms large basins. You can then practice in complete safety, sheltered from the waves. It is for these reasons that Le Veillon is one of the favorite spots of inhabitants of Saint-Jean-de-Monts !
Noirmoutier Island
And to change category again, practice the 360 ° kitesurfing in Noirmoutier ! Depending on the direction of the winds, you can choose the Noirmoutier coast for safe kitesurfing, especially to the east between the Passage de Gois and the bridge.
This space without waves and with little depth extends over several hectares and is a privileged place for learn kitesurfing and to navigate in peace. Without forgetting that if you want discover new landscapes and purely Vendée atmospheres, Noirmoutier Island full of surprises!
The place is worth the detour, and the nautical activity even more: so choose your favorite spot, and try your hand at essential board sports .
Kitesurfing at the Tropicana
Unmissable nautical activity for all holidaymakers and inhabitants of the Vendée, kitesurfing allows you to discover new sensations and to taste the true freedom of your holidays.
In Saint-Hilaire or Noirmoutier , take to the open sea and go on an adventure by learning the basics of kitesurfing! You can even practice kitesurfing in the comfort of the huge beach that borders Le Tropicana.
Do you need advice for your nautical activities or entertainment? The warm staff of the Tropicana remain at your entire disposal : ask us what you want, we have the answer!
Discover Vendée-style holidays in the comfort of Saint-Jean-de-Monts.
And for even more entertainment, here is other nautical activities to practice around the campsite :