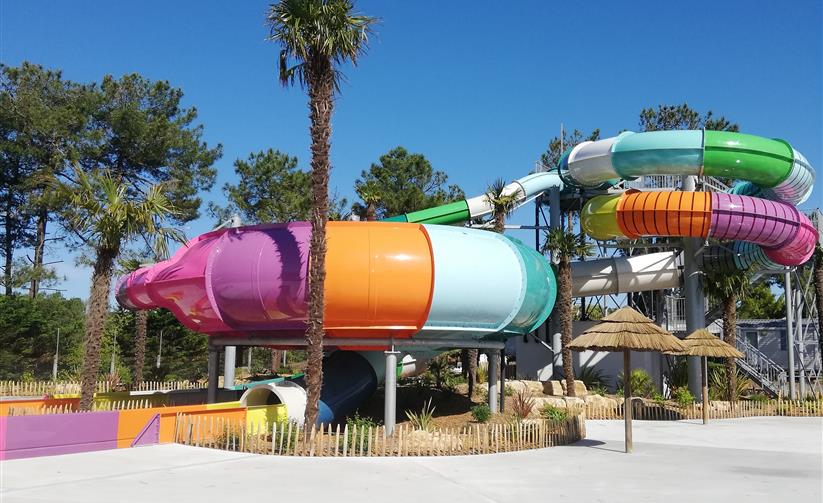 The advantages of the 5-star Le Tropicana campsite in a Saint-Jean-de-Monts motorhome
Your camping-car vacation at Le Tropicana campsite in Saint-Jean-de-Monts!
You want to enjoy the great outdoors during your camping holiday ? So, opt for a stay in Vendée in the Tropicana motorhomes. Apart from his beautiful beaches and its mild climate, this region offers innumerable assets to vacationers. You can enjoy pleasant moments there with family or friends .
The location for Tropicana motorhomes
Located at Saint-Jean de Monts , on an area between 80 and 150 m2, the location of the Tropicana campsite offers you an unforgettable moment in the middle of a 7 hectare setting of preserved natural spaces , between sea and forest on the Vendée coast. The location for motorhomes has many advantages .
In fact, some motorhomes are located in the shade and others in the sun at the discretion of the campers. They own all modern comforts with equipment adapted to each space , like the fitted kitchen, separate bedrooms to preserve privacy.
They are equipped with an electric terminal and a water point to ensure everyone's comfort. Motorhomes have the connections to sewerage or benefit from proximity to sanitary blocks for amenities .
In addition, on the site for Tropicana motorhomes, while reading a book on your deckchair or in the shade of its awning, it is good to live in perfect harmony with the noises and scents of the surrounding pine forest.
Camping le Tropicana in Saint-Jean-de-Monts, a holiday destination with many assets
To rediscover yourself and relax, there is nothing better than the Tropicana campsite in Saint-Jean-de-Monts, located in full of nature . It provides many advantages:
The benefits of a stay at the Tropicana
Located in a large pine forest, off a vast sandy beach at
Saint-Jean-de-Monts
, the Tropicana is the ideal campsite to spend
Good holidays.
It allows you to fill up with sun and energy. With his
location for motorhomes
, it offers many advantages:
You can opt for a sunny breakfast or under a parasol in front of your motorhome. Then, enjoy a nice meal in the café and in the evening, mussels au gratin in a small restaurant in Saint-Jean-de-Monts .
In terms of relaxation and relaxation
The campsite offers several
heated swimming pools
and a large solarium with palm trees. You can also enjoy the sauna, spa and hammam. This property also features a hot tub. And when the weather is overcast, there is the
indoor swimming pool
, heated and covered.
For people who have a pet
The campsite in Saint-Jean-de-Monts admits domestic animals . So you can enjoy good times with your faithful companion by visiting the heart of the city located about 5 minutes walk or strolling on the beach.
It should be noted that you will not be cut off from the world, because the Internet connection is available , and you will have the choice of paying for your vacation at the Tropicana either by credit card or with vacation vouchers.
For children and adolescents
They will enjoy the
kids club
, entertainment, playground, games room, etc. They will be able to exercise and make new friends by doing sports on the
multisport field.
As for water activities, this campsite has a paddling pool, a slide and also a
water park
.
Around the location for the Tropicana motorhomes, you can enjoy endless pleasures such as walks in the forest and along the sandy beaches.
And between cabotage on Noirmoutier Islands and Yeu, the leisure parks (Océanile, Atlantic Toboggans, Youpla Land, etc.) and the theme parks (large park of Puy du Fou, Explora Parc, île aux Papillons, Ferme des Pommettes). will have that spoiled for choice .
It is without forgetting the Nautical base of Saint-Jean-de-Monts which introduces you to the various practices of board sports (Paddle, windsurfing, catamaran, sand yachting, surfing, etc.)!
In high season, at the Tropicana campsite in Saint-Jean-de-Monts , the animation team is organizing a multitude of activities as well sporty than entertaining .