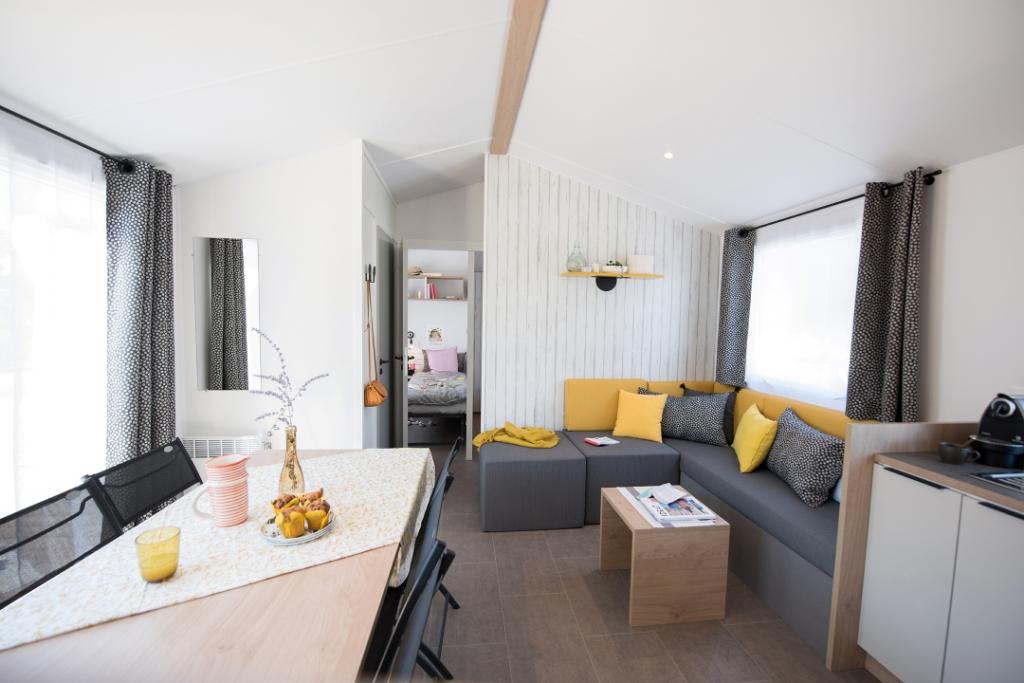 Our accommodation for 8 people in Saint-Jean-de-Monts
For unforgettable holidays in Vendée, discover our accommodation for 8 people in Saint-Jean-de-Monts!
Are you looking for the ideal place to spend holidays with family or friends?
The Vendée is the favorite destination of many French people every year! With fauna and flora in their natural habitat, respect for preserved areas and numerous sporting and recreational activities, the Vendée is a must.
And more exactly than the Vendée, Saint-Jean-de-Monts is a particular reference. You benefit from all the necessary amenities for your comfort: bar, restaurant, convenience stores and supermarkets.
But these conveniences are always in a particularly natural space, which knew how to adapt to the omnipresent nature.
You only have one step to take to find yourself in the heart of the Vendée nature, and savor a moment out of time, in a peaceful and preserved environment.
But to fully enjoy your holidays with family or friends, it is also (and above all) essential to choose the right accommodation. Especially when many of you go!
If you are looking for the best accommodation for 8 people in Saint-Jean-de-Monts, look no further: the Tropicana gives you all the information.
Between pitches for tents and motorhomes and mobile homes in Saint-Jean-de-Monts , organize unforgettable holidays for the whole family in Vendée!
Go on holiday with a group
Going with 8 people can be a real challenge. Many vacations are always a boon to meet up with your friends or loved ones . This is an opportunity to experience unforgettable moments, in the comfort of suitable accommodation.
But it's also a whole project that needs to be set up! Leaving in such large numbers means organizing activities to please everyone, reserving restaurants in advance… In short, it's all a matter of anticipation.
And this is particularly the case with accommodation, which must be designed for your comfort . It is necessary that the accommodation in which you are going to spend your stay is designed in such a way as to be able to accommodate 8 people.
The necessary equipment must be available, there must be several bathrooms and toilets, the rooms must be equipped… And above all, you must be able to have a space reserved for you, in order to be able to enjoy moments in any privacy.
Many are the characteristics required for a good accommodation for 8 people . And these are characteristics taken into account in your Tropicana campsite! We offer two types of accommodation for your group of 8 people.
Comfort above all!
Also read: All together…! How to prepare a group trip?
The Family Cottage
If you are looking for a relaxing holiday, with all the necessary comforts from bedding to kitchen equipment, the Cottage Family is the option that best suits you.
It is a fully equipped cottage, with an area of 40 m². This large luxury mobile home has 4 bedrooms and can accommodate 1 to 8 people in optimal comfort.
You benefit from complete equipment, with a covered terrace, a television and a dishwasher. The bedrooms have comfortable and quality bedding, the kitchen is equipped for 8 people, the terrace gives you access to garden furniture and all the furniture that goes with it.
In short: the Cottage Family is the essential alternative if you want to spend a comfortable holiday, short or long.
Tent and motorhome pitches
But if you are looking for a bit of a change of scenery and have a taste for adventure, you can absolutely book a tent or motorhome pitch at the Tropicana!
You can then bring enough tents to accommodate everyone, and set up a real camp to settle in for the duration of your vacation.
And for caravans and motorhomes, the Tropicana is fully equipped. Make the most of holidays in line with your needs, and spend unforgettable moments with your large group of 8 people!
Read also :