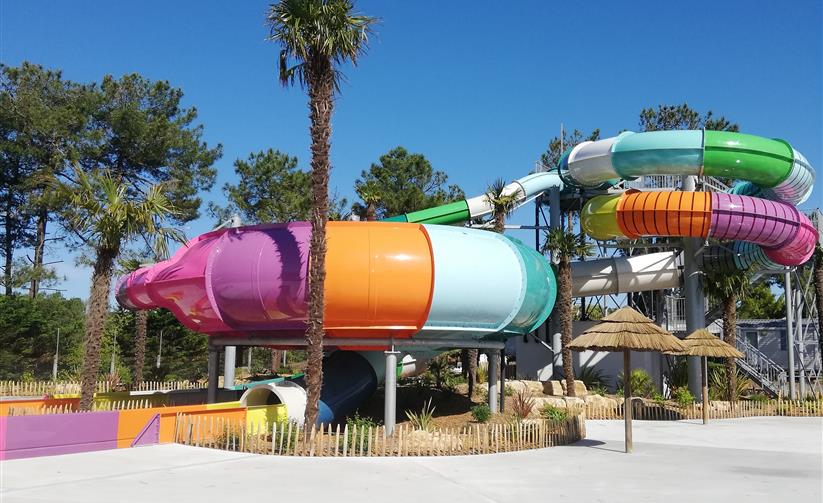 Holidays at Le Tropicana campsite in Saint-Jean-de-Monts
Your summer holidays at Le Tropicana campsite in Saint-Jean-de-Monts
Have you dreamed for so long of spending unforgettable moments with family or friends? Make the right choice for your next summer vacation and make the most of every moment in a 5-star campsite in Saint-Jean-de-Monts in the department of Vendée .
The Tropicana campsite opens its doors to you for guaranteed moments of relaxation. Discover an unparalleled landscape whose beauty will fascinate you and provide you with calm, happiness and good humor.
Le Tropicana campsite in Saint-Jean-de-Monts: the strengths that make all the difference
Saint-Jean-de-Monts is a commune in Vendée renowned for its beautiful and long beaches . It is a very lively city all year round and offers a wide range of activities to do.
With its dream location, the Le Tropicana campsite will obviously appeal to you. Located in the middle of a pine forest, it is surrounded by valleys which offer a soothing view of nature.
Also, your campsite is at a crossroads between nature and modernism. Indeed, it will be possible, according to your desires, to reach the seaside without difficulty or to make purchases in the shops nearby.
Camping Le Tropicana: leisure activities for all tastes and for all ages
Your Le Tropicana campsite in Saint-Jean-de-Monts offers you diversified activities and privileged moments of relaxation, each just as interesting as the next:
– Enjoy your free moments of well-being : totally forget the stress of work and relax in the hammam, sauna or whirlpool baths. Your body, health and mind will thank you for it;
– Participate in group animation activities : the Le Tropicana campsite offers tailor-made activities (treasure hunt, dance initiation, barbecue, forest walk, water games, drawing workshop, beach volleyball, sports tournaments, etc.) to please you. Alone or with your family, take advantage of several activities led by enthusiastic, friendly and dynamic animators. Meet new people and keep wonderful memories of those moments;
– bathe by the sea or by the pool: for young and old alike, swimming is a great option to enjoy nature and escape the summer heat. These activities can be practiced in complete safety under the supervision of your team. campsite in Saint-Jean-de-Monts . Do not hesitate any longer, take the plunge!
Le Tropicana campsite: quality accommodation at a very good price
Whether you go alone or with your family, your campsite has many accommodation options that are as comfortable as each other. Stay in a comfortable cottage with breathtaking amenities.
Are you more of the caravan, tent or motorhome style? Well, enjoy the exteriors and very well equipped pitches available to you.