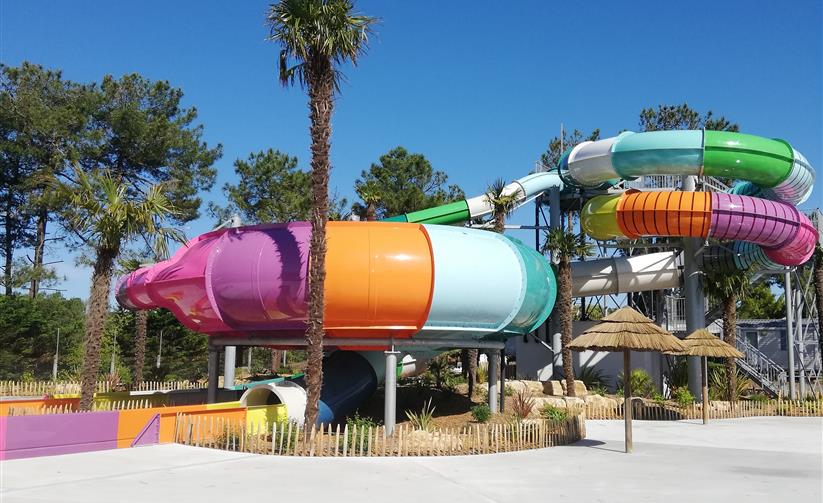 Family outings in Vendée: the key to a pleasant stay
Good reasons to rent a mobile home at Le Tropicana campsite in Vendée in Saint-Jean-de-Monts!
The Le Tropicana campsite in Saint-Jean-de-Monts is an idyllic place and very suitable for spending good time with family or friends. Due to its strategic geographical position, the Le Tropicana campsite attracts many tourists and holidaymakers. It is a 5-star campsite which has required infrastructure to do have a good time to all its visitors .
Discovering the campsite in Vendée Le Tropicana
Located halfway
between fine sandy beach and Pine forest
, the Le Tropicana campsite attracts with its geographical position. This campsite is very close to the region's shops (500 m) and is only 7 kilometers from the city center of Saint-Jean-de-Monts. Established on an area of more than 7 hectares, Le Tropicana
offers all services
related to the reception, accommodation, catering and entertainment of its guests. It mainly has:
Aquatic area : The campsite has a modern aquatic park. Between swimming pools, slides and outdoor paddling pools, the pleasure can only be.
Relaxation and entertainment activities : The center contributes to the well-being of its guests by relieving them of stress. This involves setting up countless entertainment activities supervised by coaches;
Accommodation : Le Tropicana campsite offers accommodation services to match its reputation. Campsites and / or holiday accommodation are offered in a natural and green setting. Campers can make their choice.
Here are some good reasons why it is more advantageous to rent a mobile home at Le Tropicana campsite in Saint-Jean-de-Monts .
Comfort: useful for a pleasant stay
The mobile home service offered by the Le Tropicana campsite is very attractive. The mobile homes provided are very comfortable and well equipped. They are also very spacious and offer high quality equipment (bed, bathroom, kitchen accessories).
This type of accommodation also has the advantage of have a terrace to enjoy the sun's rays without having to travel a certain distance (even a short one) to reach the beach.
The choice of luxury
The Campsite in Vendée Le Tropicana also offers luxury mobile homes for the wealthy classes. Selected among the most luxurious, these mobile homes offer accommodation potential worthy of the largest hotels. Reservations for this type of accommodation service are made several months in advance.
Ideal for staying with family
There is nothing better than to stay with friends or family during a camping trip. The mobile homes made available by Camping Le Tropicana are a real opportunity to stay in a group once at destination. With its large interior spaces, its various bedrooms, its kitchen and its bathrooms, the mobile homes of the Campsite are sized to accommodate a family of 6 persons .
A real comfort pleasure which makes the whole family happy and helps to strengthen family ties! Family members also have the opportunity to have fun each in their own way, either through board games or with a outdoor barbecue .
Also, pricing is one of the major reasons why renting a mobile home in Vendée is desirable. On the Campsite in Vendée Le Tropicana , the cost of renting the mobile home remains very attractive. This is the hosting service that offers the best value for money.
Ultimately, the mobile home rental remains the best option to stay at the campsite in Vendée Le Tropicana . Whether solo, with the family, as a couple or with friends, the mobile home further enhances the holiday experience within the Campsite.