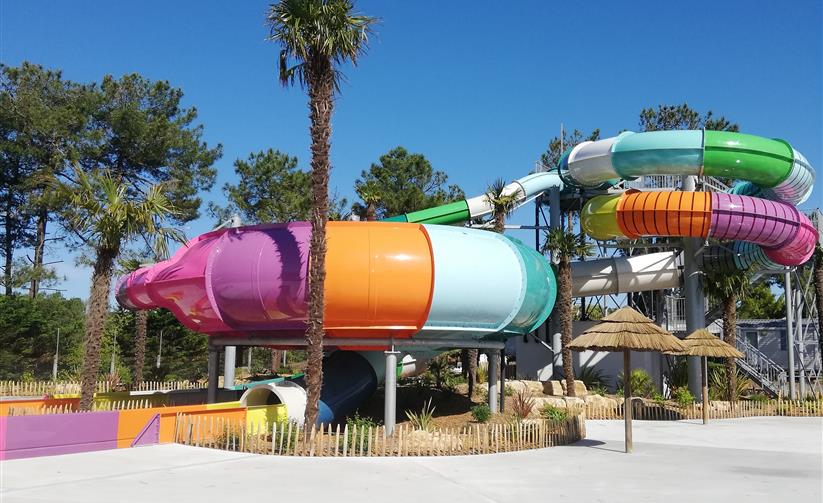 Explore your Le Tropicana campsite in Saint-Jean-de-Monts in a 360 ° view
Discover your Le Tropicana campsite in Saint-Jean-de-Monts in a 360 ° virtual tour
A pretty corner located in the heart of the pine forest and only 800 meters from the beach , Camping Le Tropicana opened in 1994. Quiet and clean, this site invites campers to let themselves be transported by the charm of its facilities and the quality of services offered .
In this hilly setting of seven hectares, the activities are both festive and sporting . Let's go through the spaces of this 5-star campsite and take stock of the activities you can do there.
Visit of Le Tropicana campsite in 360 ° view
When you enter the campsite, you are greeted by a dynamic staff and experienced in the task . After having done the necessary formalities, you can start the adventure.
Regarding a 5 star campsite , campers can easily access an open swimming pool, entertainment, a multisports ground, a free wellness area, etc.
Alone, with friends or family, you can feel the benefits of a campsite in Saint-Jean-de-Monts. The site is located between forest and fine sand, near the Mouettes shops. It should be noted that the city center is approximately 7 kilometers away.
By the quality of the services offered there, Le Tropicana stands out as a ideal setting for holidaymakers looking for comfort, calm and tranquility. The managers of the campsite are at your disposal and do everything to satisfy your desires .
Why spend your holidays at the campsite?
By browsing this campsite, you cross different areas. The aquatic area is one of a kind. The gym and the playground are specially designed to offer the best camping experience .
In addition, wide alleys and stairs are arranged to facilitate movement in this 5-star campsite. If you take the small path, you will not fear any harm. Indeed, it is practical and allows you to reach the nearby shops in a short time.
The mobile homes are modern and guarantee a better comfort . When it comes to eating, remember that everything is planned to transform your stay into a gastronomic escape.
If you want, you can enjoy your meals on your private terrace. To be able to communicate with your loved ones via the internet, you will have to go to the campsite reception or to the bar. In these places you can access the Paid Wi-Fi .
If you are looking for the perfect place for a memorable holiday in Saint-Jean-de-Monts, this campsite is indicated. In high season, you will find an entertainment team that offers a wide range of activities .
Play team games to spend unforgettable moments with other people. This campsite also offers a tempting water park with several heated swimming pools, water slides, a large solarium, etc. Are you looking for relaxation and relaxation? Do not hesitate to lie down in the sauna and hammam .
Nearby activities and tips for a successful campsite in Saint-Jean-de-Monts
If you want to sunbathe while enjoying the fresh sea breeze, the Saint-Jean-de-Monts beach is the place to visit during your camping trip. You will discover a wide carpet of white sand perfectly sunk into the sea.
You want to spend time in unspoiled nature, Vendée offers the opportunity to escape into the countryside. To do this, you can rent a bike at Le Tropicana campsite.
Take advantage of your visit to discover the two virgin islands of the Vendée coast ( Noirmoutier Island and Ile d'Yeu ). They also allow you to better appreciate the beauty of nature.