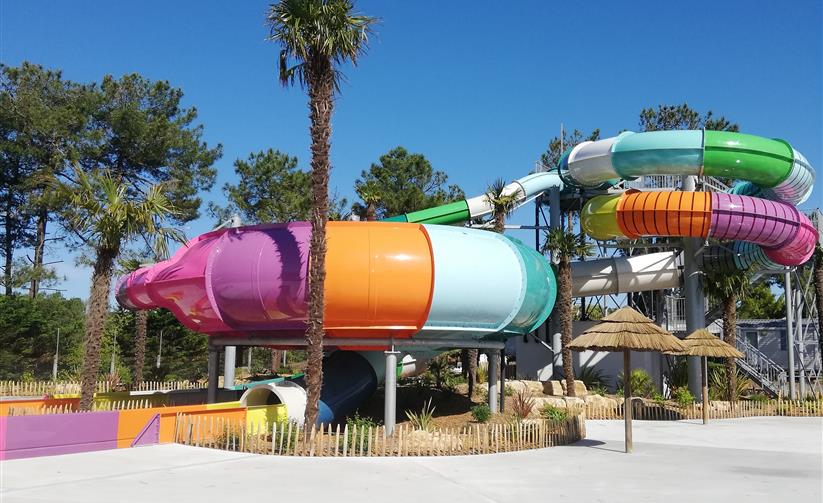 Ecological camping and recycling in Vendée
Due to its geographical location, the Tropicana is the perfect address for spending unforgettable holidays in Saint-Jean-de-Monts. Located between a sandy beach and a pine forest, this site allows you to experience all the benefits of a campsite in the Vendée. Whether you are with friends or family, you will find here everything you need to change your mind and recharge your batteries in a relaxed atmosphere.
What to do on a campsite in the Vendée?
The Tropicana offers an ideal setting for a good campsite in the Vendée. At sunrise, the first thing to do is stroll down to the beach to soak up the sun. You will do approximately 800 meters walk to reach this wide carpet of white sand perfectly sunk into the sea. If you want you can start the day with perhaps some sandwiches and an orange juice at one of the restaurants on site. It should be noted that it is possible to have your breakfast on your private terrace. In the evening, you can have a good meal in the bistro. Whatever your tastes, this site has everything you need to turn your vacation into gastronomic escape .
For those looking for a relaxed lifestyle, this lovely family campsite allows you to bring a hammock to enjoy the freshness of the ocean. In high season, an entertainment team organizes a multitude of activities on this campsite. Among other things, you will find a water park , water slides , heated swimming pools , etc. It should be noted that it is possible to rent a bike at Le Tropicana campsite to escape into the countryside.
Find the best accommodation at the best prices
At Le Tropicana campsite, the campsite pitches and holiday accommodation are spread over seven hectares. These are green spaces that allow you to contemplate the splendor of nature in a unique atmosphere. This campsite in Vendée indeed offers an exotic setting that offers all the idyllic living conditions. For your stay, you have the possibility to rent a mobile home , a camping car , a caravan or a attempted . Whatever your choice, you benefit from fully equipped accommodation adapted to the capacity you want.
Here, the mobile homes look like charming cottages designed to accommodate up to six people. If you are camping with your family, you can settle in one of these mobile homes to better appreciate camping life. With an area ranging from 20 to 40 m2 , they offer all the comfort you could expect for a campsite in the Vendée. In most cases, booking a mobile home gives you the right to
a living room ;
separate bedrooms for privacy;
a perfectly fitted kitchen;
a dining area;
a bathroom with separate WC;
garden furniture installed on the terrace;
etc.
Depending on your wishes, you can choose between a shaded or sunny site located near the toilet blocks of the Le Tropicana campsite. Each space is between 80 and 150 m² and it is possible to install awnings and garden equipment to better enjoy nature.