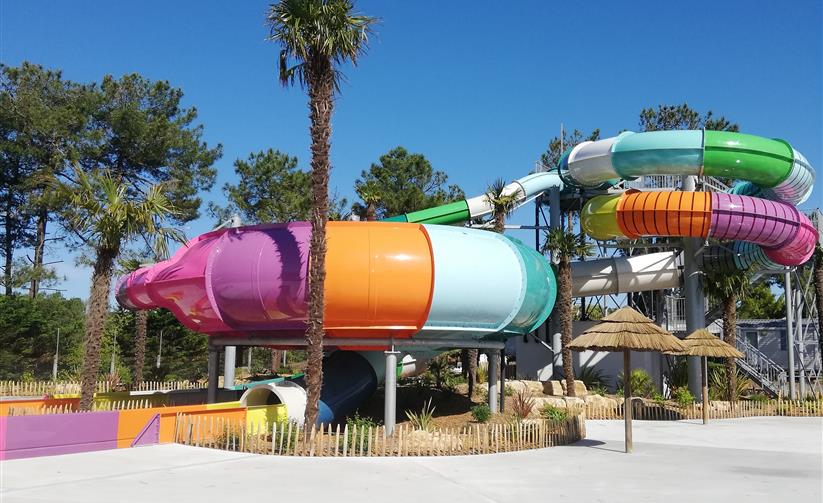 Discover the surroundings of Le Tropicana campsite in Saint-Jean-de-Monts
Seaside resort located in the Vendée region, Saint-Jean-de-Monts is home to many camping sites that guarantee unforgettable holidays!
By booking your stay at Le Tropicana campsite, for example, you will have the chance to several activities to relax you . Solo or in a group, you will never run out of ideas for fun. Discover here the activities you can do around Saint-Jean-de-Monts during a campsite in Vendée.
Take a hike on secure trails to discover the Vendée landscapes
Vendée is a French department very popular for the charm and diversity of its landscapes. Between marshes, islands, beaches, fishing ports and other attractions, this destination has everything you need to offer you a dream holiday.
To find a beautiful setting in order to have a good time with your family in the heart of nature, a few clicks on your smartphone or tablet will suffice.
During your campsite in Vendée, you can hike or cycle to better appreciate the assets of this region. As you walk the trails, you will discover varied landscapes with unique charm. Don't hesitate to take breaks from time to time to get closer to an attraction that catches your attention.
Take part in events around Le Tropicana campsite
If you are looking for a pleasant place to camp with your family in Saint-Jean-de-Monts, the Le Tropicana campsite can meet your needs. Not only does this choice allow you to access many animations , but also it guarantees you the best services at the best prices. Coming there between mid-April and mid-September, you can spend unforgettable moments while preserving your wallet.
For many tourists, the Caval-Océane is one of the reasons for camping in the Vendée. It is indeed an equestrian festival that takes place every year on the beautiful beach of Saint-Jean-de-Monts.
It is the moment to attend beautiful animations and competitions in a warm atmosphere . If you have a little time, be sure to go for a stroll on the Ile de Ré or the Ile d'Oléron. A natural and authentic setting waiting for you !
Tree climbing at a campsite in Vendée
By booking a stay at Le Tropicana campsite, you can go tree climbing and explore the forest from the treetops. It is an experience not to be missed!
We provide you with perfectly equipped courses to allow you to experience strong sensations in complete safety. Indeed, each participant uses a system of snap hooks , which allows you to evolve with peace of mind.
In order to help you recharge your batteries, we offer 5 levels of difficulty for this activity. If you are with your family, your children will be able to access the baby course and have fun under the supervision of a coach. Whether you are a beginner or a regular at tree climbing, you will have a great experience on a campsite in the Vendée.
Taste dishes of Mons cuisine in a restaurant
At a campsite in Vendée, you can taste typical local dishes. Depending on the season, some restaurants offer curds accompanied by sugar.
It is indeed a milk preparation very popular in the Breton Vendée marshes. No matter the period, you can easily find an address to taste raw oyster .
Like most campsites in Saint-Jean-de-Monts, Le Tropicana campsite is located by the beach. It also has a water park with slides which guarantees good moments of relaxation.
To make the most of your campsite in Vendée, it is recommended to book a mobile home with a covered terrace or a bungalow. If you want, you can also find cottages with wellness areas to spend pleasant moments outdoors. So don't hesitate to contact us!