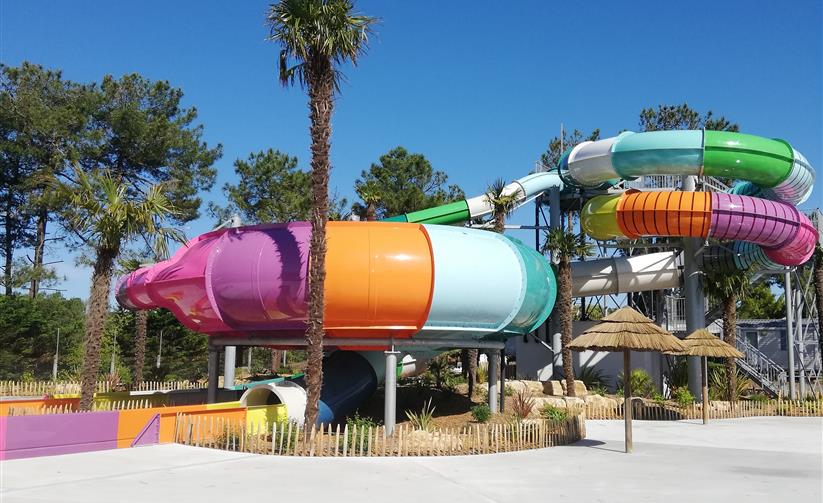 Discover our accommodations at the Tropicana campsite in Saint-Jean-de-Monts
Moments of relaxation and fulfillment , everyone needs it to break with the monotony of everyday life which can become very overwhelming.
Getting out of the usual living environment to enjoy a stay in a new and well-equipped environment is a very good option .
And what better than to be tempted by a stay of campsite in Vendée ? Le Tropicana campsite in Saint-Jean-de-Monts has a wonderful setting, in contact with the nature , with exceptional accommodations that guarantee an unforgettable stay for campers.
The marvelous setting of the Tropicana campsite in Saint-Jean-de-Monts
A natural and beautiful environment, this is what welcomes you upon your arrival at the campsite in Saint-Jean-de-Monts . Accommodation is simply added to this wonderful setting.
Located near the beach and a forest , the most beautiful sensations are already guaranteed during your stay at the campsite in Vendée. The atmosphere is ideal and rhymes with freshness and friendliness.
The accommodation covers an area of 7 hectares and several options are available to allow each camper to have the stay of their dreams.
Camping pitches to get out of the ordinary
Several pitches have been specially designed for those who wish to experience a stay that cuts away from the ordinary.
Of 80 m2 to 150 m2 , the facilities have been designed to meet the needs of all customers. They have a water point and electricity to ensure a peaceful stay.
For larger campers, you will be served at Le Tropicana campsite in Saint-Jean-de-Monts by the locations tents . If you have never experienced staying in a tent, indulge yourself by discovering this extraordinary experience.
The caravans and the motorhomes are also available. The client has the choice between spaces to better enjoy the sun, or rather the soothing shade offered by the tall pines.
Mobile homes, to keep your comfort even when camping!
The campsite in Saint-Jean-de-Monts also offers you the possibility of not completely cutting back with your usual comfort.
For those who prefer to keep their good habits of ordinary accommodation, while enjoying the setting of the campsite, you will find Mobile homes , which are modern accommodation with all the device of your home .
You will feel like you are moving with your house for your campsite in Vendée ! You will be able to rebuild your own world and quickly feel at ease. With family or friends, you will find cottages fitted out according to your number.
Couples can maintain their privacy away from the curious eyes of children, with separate bedrooms. Family meals on the terrace, enjoying the Sun will be excellent rich and friendly occasions .
The Tropicana campsite in Saint-Jean-de-Monts has everything you need
Come and discover the different services that will enhance your camping stay in Vendée. A relaxation area is at your disposal, free access!
You will discover the whirlpools, the sauna and the hammam which will allow you to offer yourself maximum relaxation during your stay.
A little of tourism is also possible with the visit of the large park of Puy du fou and L'Île-d'Yeu using our ticket office and our reservation service.
A bar restaurant to delight your taste buds and the various activities offered for all age groups, not to mention the games room are all good reasons to come to us.
The Tropicana campsite in Saint-Jean-de-Monts guarantees you, alone or in a group, a camping stay that you will not hesitate to repeat. So, do you already have a date for your next camping trip in Vendée?