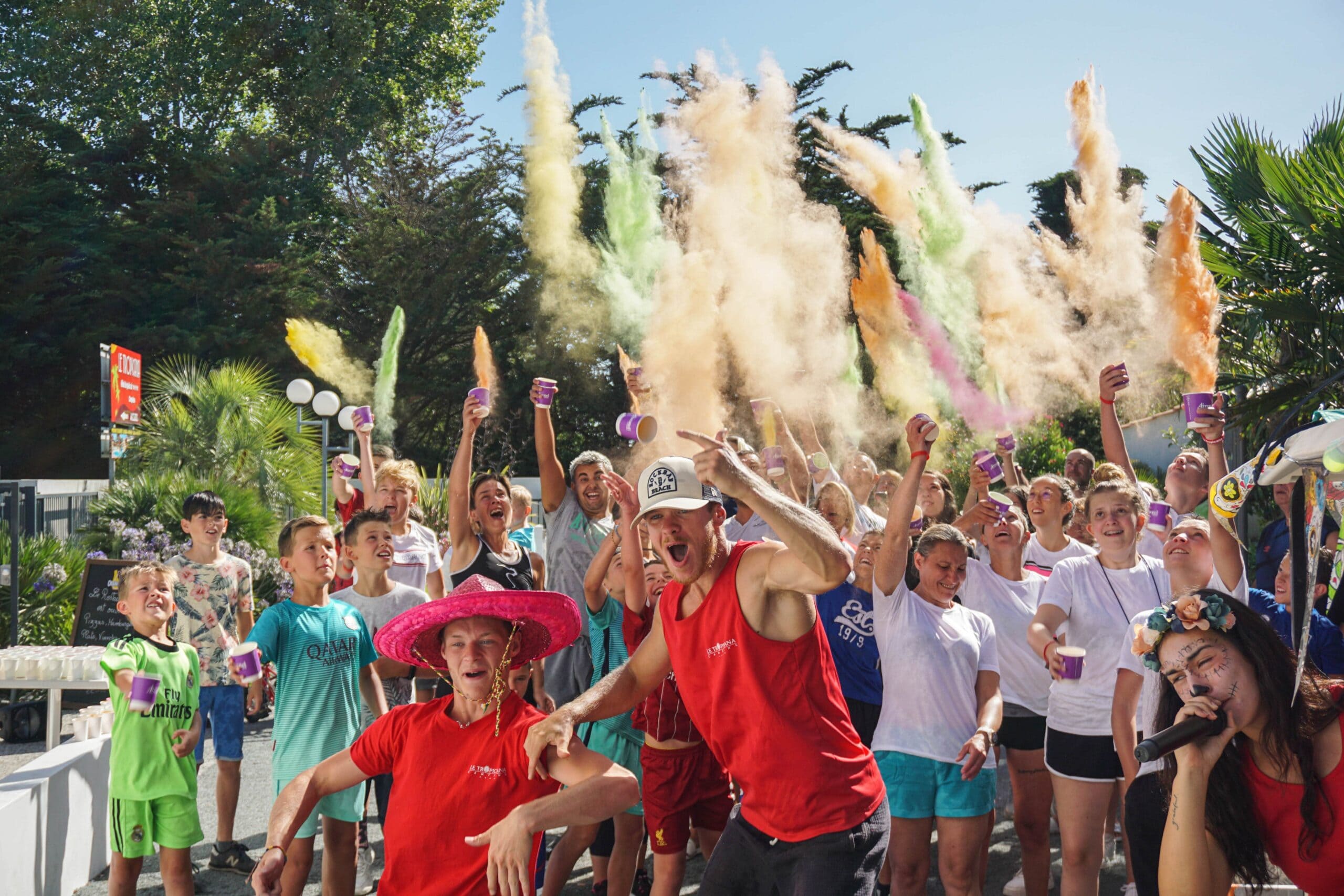 Choose a campsite with entertainment in Saint-Jean-de-Monts
For an unforgettable holiday, choose a campsite with entertainment in Vendée: The Tropicana is waiting for you!
Ah, the holidays are fast approaching… It's time to choose a campsite in Saint-Jean-de-Monts for your holidays with family or friends in Saint-Jean-de-Monts!
And who says good camping, necessarily says camping with entertainment in Vendée. Before you book your vacation, consider all the factors: including entertainment. There is something for everyone, and especially all day long.
The Tropicana helps you choose a campsite with entertainment!
Entertainment for children
The first ones you need entertain while on vacation , these are the children . At that age, our little ones need to make friends. And above all, out of the question whether they will be bored during the day or in the evening!
Before booking your vacation , so check that the campsite you are setting your sights on has everything for children. For example : a children's club during the day . Generally from 3 to 6 years old, your children are welcome in the Vendée campsites' children's club.
Sports, creative and fun activities , impossible to get bored with competent and warm animators. Without forgetting that your children will be able to meet the little ones of their age, and to make little vacation companions to spend weeks of hell and come back rested!
Entertainment for teenagers
But children are not the only ones who have a say: adolescents also need to be taken care of. And they still need to meet young people their age even more!
the ideal campsite in Saint-Jean-de-Monts offers also entertainment for teens . Obviously, this is not a kids club , but rather an organization of events in which adolescents can participate.
Walks in the forest, the discovery of nautical activities, barbecues and non-alcoholic aperitifs … With the right club and the right animators, your teenagers will also find their happiness!
Cozy campsites like Le Tropicana do not forget to organize evenings at the campsite , for young and old. Events, shows, dance evenings … night and day entertainment will delight your teenagers during your holiday in Saint-Jean-de-Monts !
Entertainment for adults
And the best for last: you too, as an adult, have the right to have fun! Whether sporting activities, discovering the Vendée region or evenings at the campsite, all activities are also planned for adults.
With your children or just between you, have fun day and night at the Le Tropicana campsite in Saint-Jean-de-Monts .
The campsite staff welcome you every day, and prepare you animations that change every week .
Campsites with entertainment in Saint-Jean-de-Monts
The campsites in Vendée are only perfect when they offer entertainment. But not just any animations: you have to entertainment for young and old alike .
For your children, for your teenagers and even for you, discover a whole range of activities and animations to create bonds with the other holiday makers, and especially to allow you to completely release the pressure.
During your holidays at Le Tropicana campsite , there is no stress to have: everything is organized and taken care of for you. The only thing you need to think about is to relax and let yourself go: have fun and enjoy your vacation as it should be at Le Tropicana campsite!
Organize the best vacation by learning about other points to pay attention to when choosing a campsite in Saint-Jean-de-Monts :
The Rules
The prices
The services offered
The animations