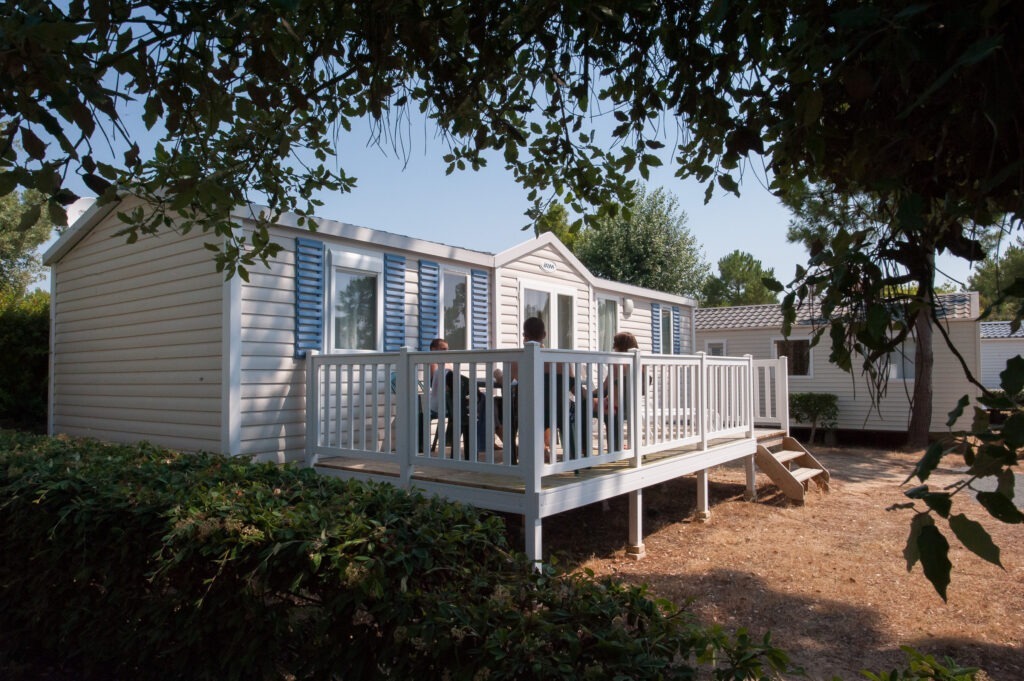 5 good reasons to rent a mobile home in Saint-Jean-de-Monts
Do you want nature and comfort? Renting a mobile home in Saint-Jean-de-Monts is the solution for your holidays!
Preparing for a successful holiday is above all choosing the right accommodation for your stay.

For holidays with family or friends, which accommodation to choose in a campsite in Vendée ? Between comfort, desires of nature and nautical activities, the mobile home is an option of choice.
Nature nearby, comfort for restful nights and a personal space for each person present: what more could you ask for?
If you are wondering about renting a mobile home in Saint-Jean-de-Monts, this article is for you!
The Tropicana explains the 5 major advantages of renting a mobile home in Saint-Jean-de-Monts.
1 – Enjoy nature nearby
The first undeniable advantage concerns the wild nature that you find in Saint-Jean-de-Monts. Adorable city of Vendée, it is located on the Côte de Lumière . With the coast nearby and many green spaces, it is the perfect balance between maritime horizons and pine forests as far as the eye can see!
Saint-Jean-de-Monts is therefore a group of green spaces, state forests and fine white sand beaches for all types of activities.
And by renting a mobile home , you benefit from the proximity of all these advantages. You don't need to lock yourself in an apartment in the city center: you can choose a campsite like the Tropicana, which is located in the heart of lush greenery.
You then spend quiet nights in optimal comfort, with the freshness of nature spreading around you.
2 – Choose a hosting adapted to your needs
The advantage of the mobile home is that you can choose it according to the holidays you want to spend. For example, you can choose a mobile home for 2 people as well as a mobile home for 8 people.
The number of rooms is adapted to the number of participants, and so is the equipment! You can request a mobile home equipped with a TV, with extra pillows, with a sunbathing area, garden furniture, etc.
The mobile home can contain a particular decoration , or be designed with an objective of practicality. Everything really depends on your desires, and the vision you have of your trip to Vendée.
3 – Choose the comfort of a fully equipped mobile home
The mobile home is also accommodation designed for the comfort of the people who live there. Like a house but with all the advantages of camping!
You benefit from an equipped kitchen to prepare good meals, a shower room and toilets, the right number of bedrooms in relation to the number of people… All this with quality bedding, a shared living space and equipment adapted to your holidays.
You can even request a mobile home with a terrace , to meet all your desires of the moment. The mobile home in Vendée is the tranquility of nature with the necessary rest during the holidays.
4 – Proximity to the beach
It's impossible to talk about holidays in the Vendée, without mentioning the proximity to the beach of Saint-Jean-de-Monts ! It is a large beach of almost 8 kilometers, with fine white sand and the maritime horizon that stretches as far as the eye can see.
And if you choose a campsite like the Tropicana to spend your holidays, you have very quick access to the beach, less than 800 meters away!
You can then enjoy your own space on the sand, to sleep, read, or try your hand at the water activities offered in Saint-Jean-de-Monts.
Read also: Nautical activities in Saint-Jean-de-Monts and its surroundings
5 – Nautical and recreational activities
Because Saint-Jean-de-Monts is also a real gathering place for water sports enthusiasts! You can try your hand at kitesurfing , windsurfing , surfing , tubing….
Depending on your desires, the beaches of Saint-Jean-de-Monts offer many possibilities. Opt for a mobile home rental , and spend an unforgettable holiday at the Tropicana!
Read also: Your mobile home reservations at Le Tropicana campsite in Saint-Jean-de-Monts