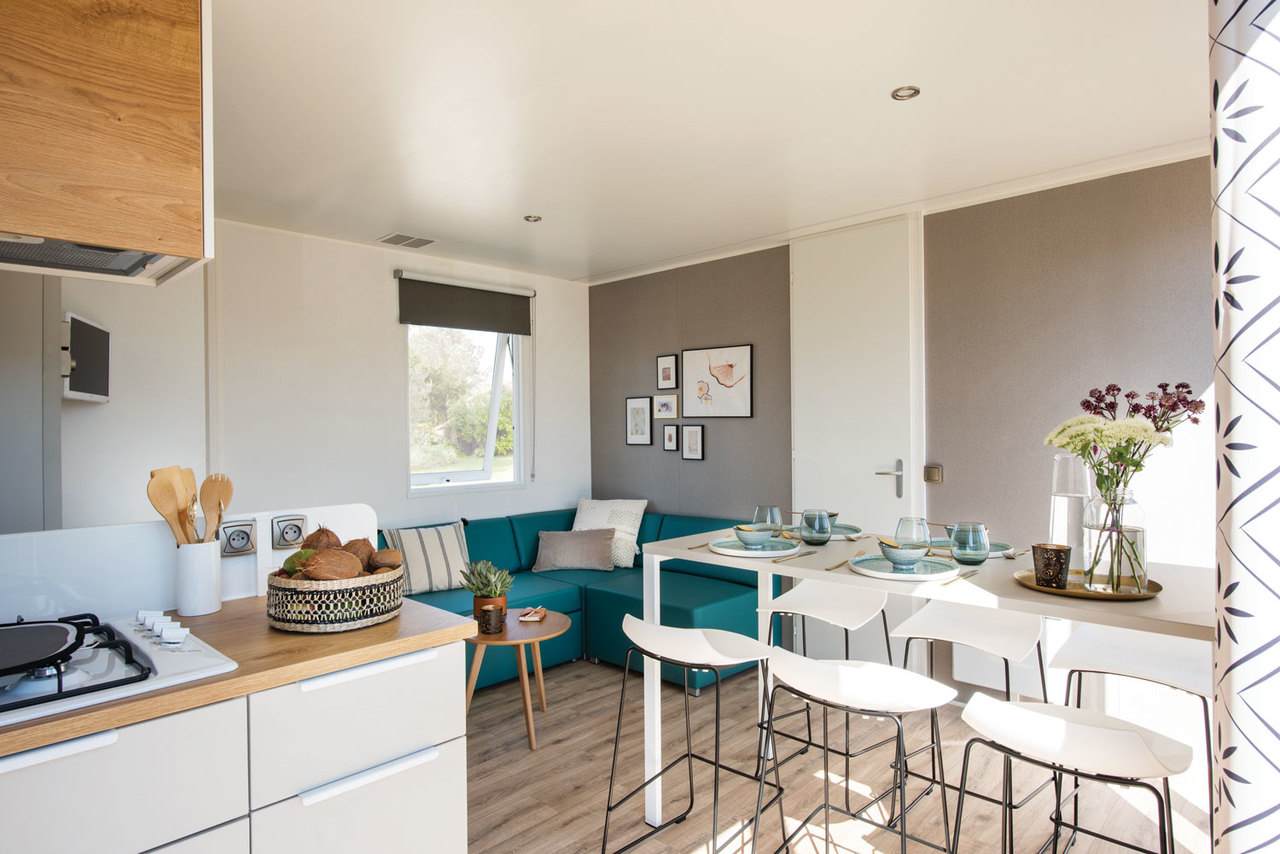 All accommodation at Le Tropicana campsite, for an unforgettable holiday in Vendée
Are you looking for the best accommodation in Saint-Jean-de-Monts? The Tropicana presents all its warm options!
To spend an unforgettable holiday in the Vendée, the only thing you need is good accommodation.

Then, the Vendée takes care of the rest. Between its natural landscapes, its striking beauty and its large fine sandy beaches… No risk of getting bored!

Only problem in the organization of your holidays: there are many accommodations in Saint-Jean-de-Monts and in Vendée.
We recommend that you book a stay at a campsite. Whether you are going with friends or with your family, campsites are always the right compromise!
Everyone benefits from a warm and family atmosphere, with relaxation or sporting activities, according to everyone's tastes.
Before choosing a campsite in Saint-Jean-de-Monts , be sure to find out about the different accommodations available.
The Tropicana presents all the accommodation available in our warm family campsite. What a great way to spend a comfortable stay with your loved ones!
Mobile homes for up to 4 people
Often, when you go on a camping holiday, you immediately think of booking one or more mobile homes .
Family holidays are immediately more pleasant in a very comfortable accommodation, with fully equipped rooms and everything you need to have your space and enjoy it.
The Tropicana offers mobile homes that can accommodate up to 4 people , so you can go in small groups.
You can then choose mobile homes with one or two bedrooms , depending on your preferences and the people you invite.
Double beds, single beds, living room with a television , terrace… The options are numerous: it is up to you to choose the accommodation that suits you!
Each person present benefits from their own space, while being able to share family moments with your loved ones.
To discover: Our accommodation for 4 people
Cottages for up to 8 people
For holidays with larger families or groups of friends, why not opt for a cottage that can accommodate up to 8 people?
The Tropicana offers large cottages , fully equipped and decorated with care in all circumstances.
You have a choice of equipment, and can even select cottages with a terrace and garden furniture so you can relax outside.
You also have the option of choosing the location of your cottage, depending on availability. Opt for a large family mobile home, and choose luxurious comfort for your holidays!
To discover: Our accommodation for 8 people
Fully equipped tent pitches
Do you want to reconnect with nature? Are you thirsty for adventure? Do you want to fully recharge your batteries?
For all these preferences, only one option : go on holiday in a tent!
The Tropicana offers many tent pitches, to allow you to spend your holidays in a pleasant green setting.
Our tent pitches are ideally distributed throughout our campsite, to allow you to select a pitch that really suits you.
You also benefit from access to sanitary facilities , as well as all the necessary access for your comfort. Water and electricity are at your disposal!
Enough to spend an exotic stay in the company of your loved ones.
Also read: THE 10 BEST things to do in Vendée: 2022 (with photos)
How to spend unforgettable holidays in Vendée?
The very first thing to do to have a good holiday in Vendée is to find accommodation that suits you perfectly!
Mobile home , cottage or tent pitch: make the choice that best suits the holiday you want to spend.
In any case, Le Tropicana welcomes you in an ideal living environment , close to the sea and long sandy beaches. Opt for tranquility!
To discover: All our accommodation in Saint-Jean-de-Monts